hints
Olive Oil vs. Coconut Oil for Hair (Which is Better?)
When it comes to oils, there is a lot of debate out there over which ones are best. Which oil should you use in cooking? What about for your skin and hair? What are the nutrient benefits of each? In the end, all healthy oils used in cooking and in your beauty regimen have their own unique and health-promoting properties, and it depends on your personal needs to determine which one is best.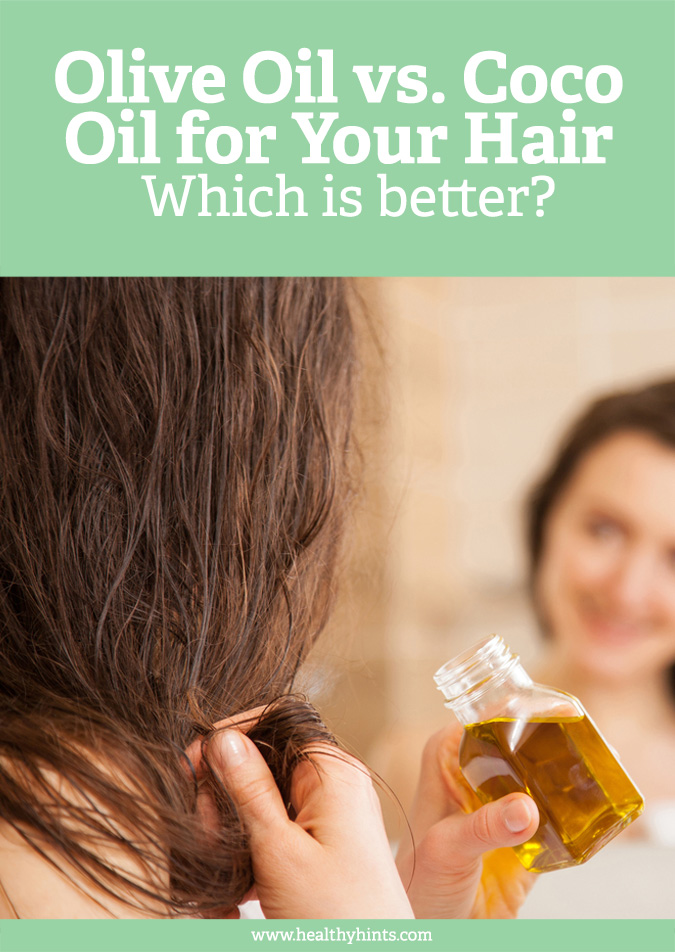 One common debate is which oil is healthier for your hair: olive or coconut oil? This article will break down the specific benefits of each so that you can decide which one is better for you.
Won't Using Oil in My Hair Make it Greasy?
All oils have the potential to make your hair greasy, some more than others. With whatever oil you choose to use for your hair (olive and coconut included), you'll want to experiment with how much to use and how often. This depends on how fine your hair is and if it tends to be dry or not. For pretty much everybody, over-using oils will leave your hair greasy.
Olive vs. Coconut Oil
A lot of oils can be beneficial for your hair, including jojoba, argan, castor and more. However, olive and coconut oils are probably two of the most common oils used in hair care, so let's focus on their specific properties, benefits and uses.
Olive Oil Benefits and Uses for Your Hair
One nice benefit of olive oil is that you probably already have it in your kitchen, and it is a less expensive oil than some other hair oils. Olive oil is touted as a great hair oil for the following reasons: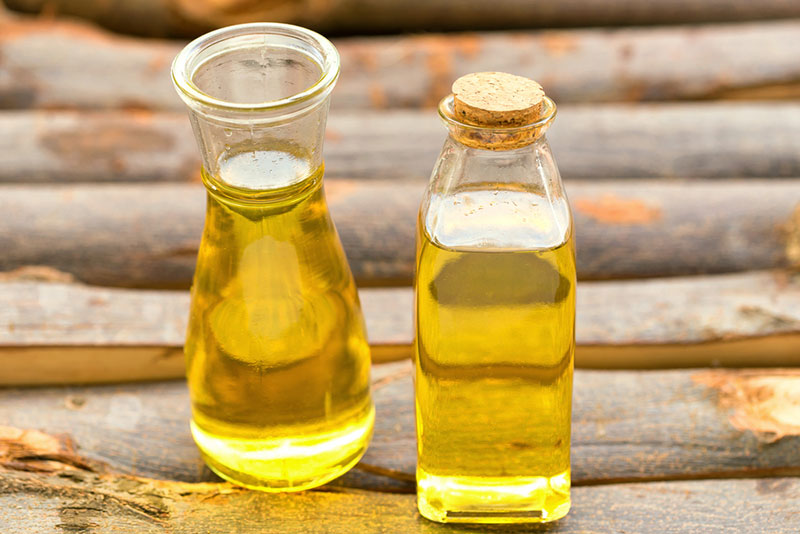 1. Moisturize and Protect
Olive oil tends to be a bit heavier than coconut oil when used on your hair, which makes it a great oil for coating and protecting the hair shaft (1). While coconut oil is able to penetrate the hair shaft more-so than olive oil and other vegetable oils (2), olive is able to coat it and protect it well from environmental elements. Especially in the winter if you live in a climate with extreme cold and wind, olive oil can help to moisturize and prevent seasonal breakage and dryness (3).
2. Make Hair Softer
Using olive oil as a once per week (or as needed) deep conditioner can greatly help with brittle, dry hair and help to make it softer and more manageable. Applying olive oil to your hair and scalp evenly and allowing it to sit either overnight or few a couple of hours before rinsing out can work far better than conventional conditioners, and without any potentially harmful chemicals that are often present in store-bought conditioning products.
3. Add Shine to Dull Hair
Olive oil is packed full of antioxidants and vitamins E and A (4), making it a great way to add shine to otherwise dull hair. These nutrients help protect the keratin in your hair and retain moisture, helping to not only make your hair shinier, but stronger and more resistant to damage.
4. Help With Dandruff and Manageability
Because olive oil is ultra-moisturizing, it can seriously help with dandruff (5). Along these same lines, a hot olive oil hair mask can work to prevent and treat dandruff while also seriously helping with hair manageability. Do you find your hair is hard to style, or never holds a curl? Try soaking your hair and scalp in a half cup of (reasonably) hot olive oil, and allow it to sit for 30 minute to one hour. Rinse with shampoo and conditioner and style.
5. Treat Split Ends
Adding just a few drops of olive oil to dry ends after a wash (or anytime you need to) can dramatically help with split ends. If necessary, you can run olive oil through all of your hair after styling to prevent fly-aways as well, but be careful not to add too much, as this could leave hair looking greasy.
Coconut Oil Benefits and Uses for Your Hair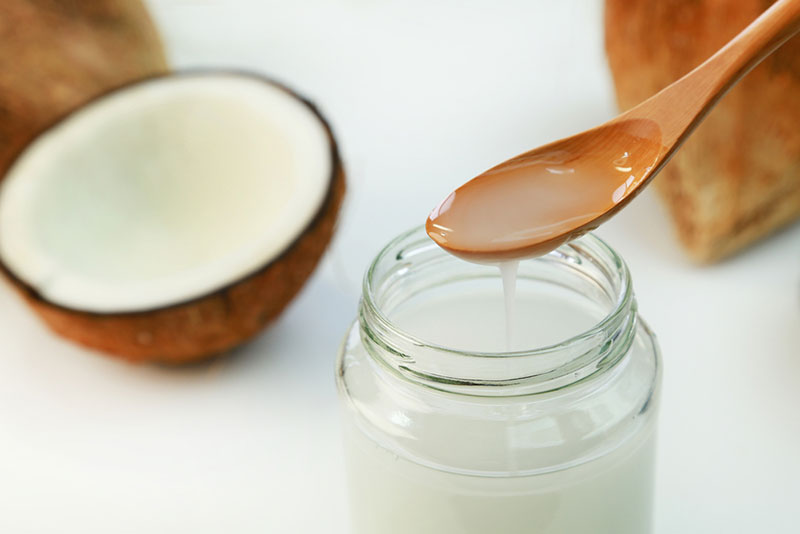 1. Ultimate Protection From Damage
Coconut oil is probably the best oil out of any for hair protection. Hair is most vulnerable to damage when it is wet, so using coconut oil as a pre-wash hair mask and/or in place of your usual conditioner can seriously strengthen and nourish your hair. Alternatively, you can use it as a post-wash protector. Studies show that using coconut oil after you wash and before you style can greatly protect it from damage that occurs during blow-drying and styling (6).
2. Dry Scalp and Dandruff Support
Coconut oil doesn't just prevent and treat dandruff because it moisturizes, it also gets to the root of the problem. Dandruff can be caused by an underlying fungal or yeast infection, and the lauric acid content of coconut oil works as a potent and natural anti-fungal and anti-microbial agent (7).
3. Helps Hair Grow Long
Coconut oil is thought to help your hair grow long and prevent excessive hair loss, mainly due to its ultra-moisturizing properties and the fact that it truly is the best oil to protect your hair from damage. Day to day damage occurs with repeated exposure to cold, wind and smoke, along with over-styling. Coconut oil used on a regular basis can offer ongoing protection, which allows your hair to grow long and strong. It is also thought to prevent hair loss if used frequently.
4. Lice Treatment and Prevention
Also thanks to coconut oil's lauric acid content, studies show that when it is mixed with anise, it makes a 40% more effective lice treatment than the typical, over-the-counter remedies (8).
5. Sun Protection
Coconut oil has a sun protective factor of 8, so it can work on both skin and hair to protect from harmful, UV rays (9). Of course, most sunscreens have a protective factor of at least 30, so be sure not to depend solely on coconut oil as your primary sun protector.
So, Which is Better?
All in all, it seems that coconut oil comes out on top in a side by side comparison with olive oil. However, you might find that you prefer the results of using olive oil, as each person's hair is different, or you might need to experiment with how to use coconut oil for your hair. If coconut oil doesn't give you the results you're looking for, try olive oil. The good news is that it's a win-win situation, as both have undeniable benefits for your hair.