I can usually talk myself out of things pretty quickly if I put my mind to it. It usually happens with food and chores (laundry… UGH), but I've also been known to turn into a hermit if destinations are too far to drive or are getting started too late at night. I suppose I'm turning into an old maid in my old age…
But I digress.
When it comes to food, whether it takes too long, involves too many ingredients or will create too big of a mess, I can usually make an excuse to just order Chinese and call it a day.
This is one of those recipes that won't make that possible. The ingredients are very few and I'm guessing you already have them all on hand, save for the cauliflower perhaps. You will only dirty a total of two dishes in the process of making it and you'll be done in about 15 to 20 minutes.
What you end up with is a filling, luscious, creamy side dish that will go with practically any main dish you can think of. Steak, chicken, and my particular favorite, broiled salmon, all go wonderfully with mashed cauliflower. You can even swap out the basil in favor for some gochujang, harissa, curry powder or Chinese five spice if you want to make these 'potatoes' a little more Asian. No matter what you're making for your main dish, this mashed cauliflower dish can morph into whatever you need it to be.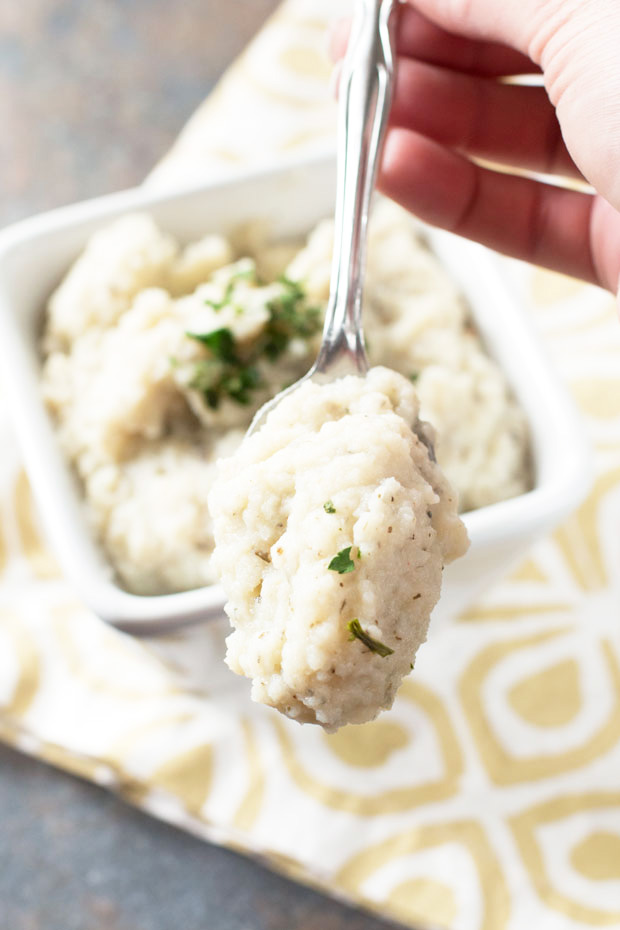 Cauliflower, much like potatoes, is a blank canvas and the options are seriously limitless. However, instead of loading up on carb-packed potatoes, you have a much healthier option that will still fill you up.
You just won't feel bloated or have any guilt at the end of the meal. Instead you'll feel full, happy and healthy – plus whoever you cook this for will be seriously impressed that you were able to just whip up such an incredible tasting side dish. 😉
(Make this next: 5 Ingredient Guacamole (SPICY!))